High quality Phalaenopsis!
With our years of experience and passionate drive, we strive continuously to have the best and loveliest plants in the Phalaenopsis world. The high demands we set for ourselves and for our carefully selected cutting suppliers ensure that our assortment consists of top-quality plants. By focussing on the 12cm pot size, we not only ensure that we have top quality in this segment, we have also developed a stunning collection, with the labels Oro – Mucho - Limitado – Surtido – Básico.
You can view our current supply on offer via Floriday, or order directly if you have an account there. Do you have any specific wishes or perhaps you would like to take a closer look at the 'real thing'? Then you are always welcome to come along and visit our company.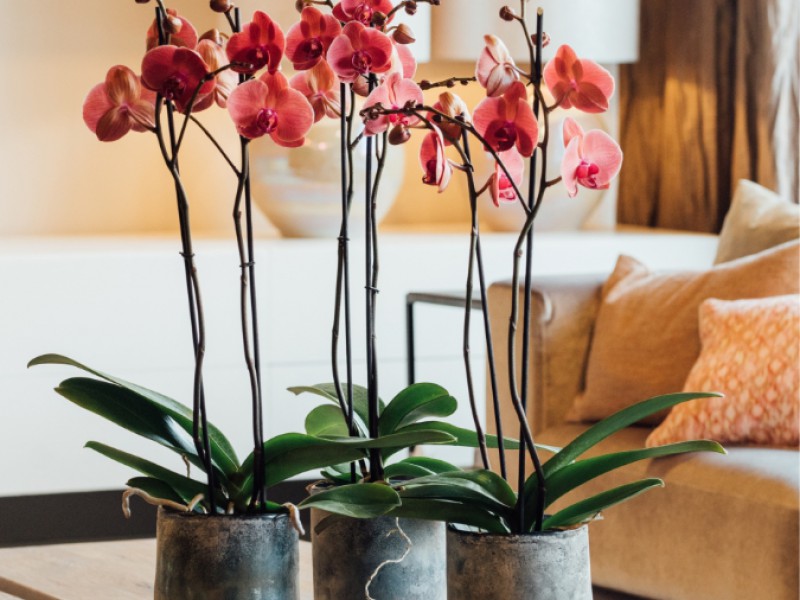 Oro
With the Oro collection, you are assured of having the best of the best. These unique masterpieces are characterised by an optimal mix of colours and a variety of exclusive cultivars. You can select the height and number of spikes you prefer.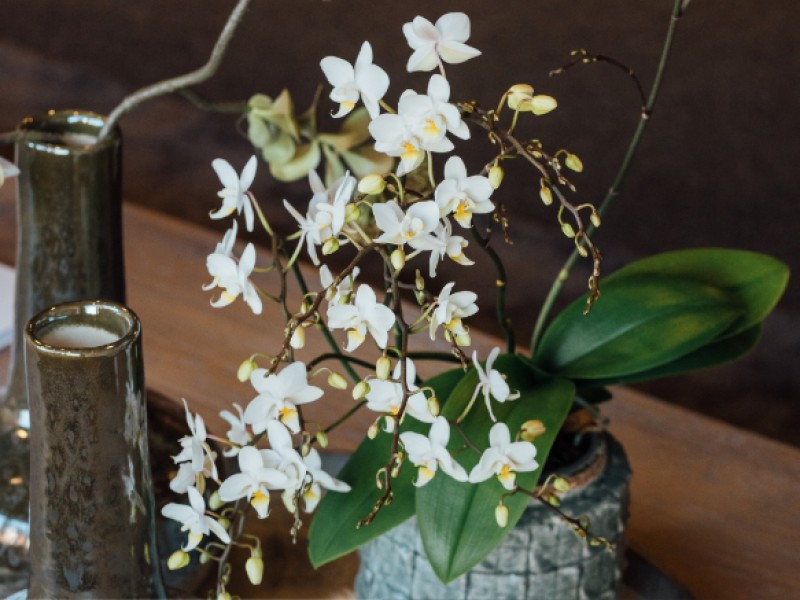 Mucho
The name already says it all: Bonito Mucho is a lovely, profuse Phalaenopsis. The natural stems that grow freely produce at least 50 flowers per plant to create a luxuriant look.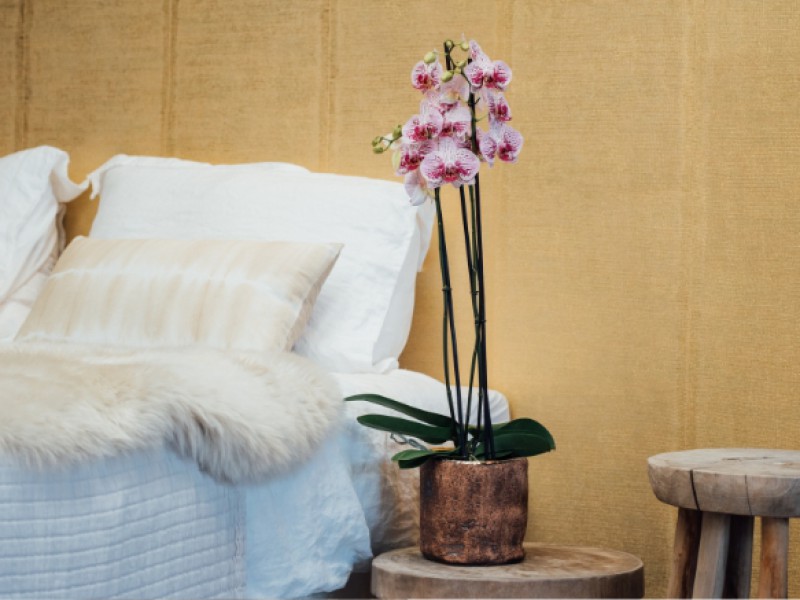 Limitado
Bonito Plant is continuously searching for the jewels of the Phalaenopsis world. With passion and craftsmanship, we seek out the varieties of the future, which we offer under the brand name Limitado. Our discoveries will be introduced in limited editions to the market. The assortment changes constantly due to this never-ending search. We guarantee exclusivity through the restricted quantities.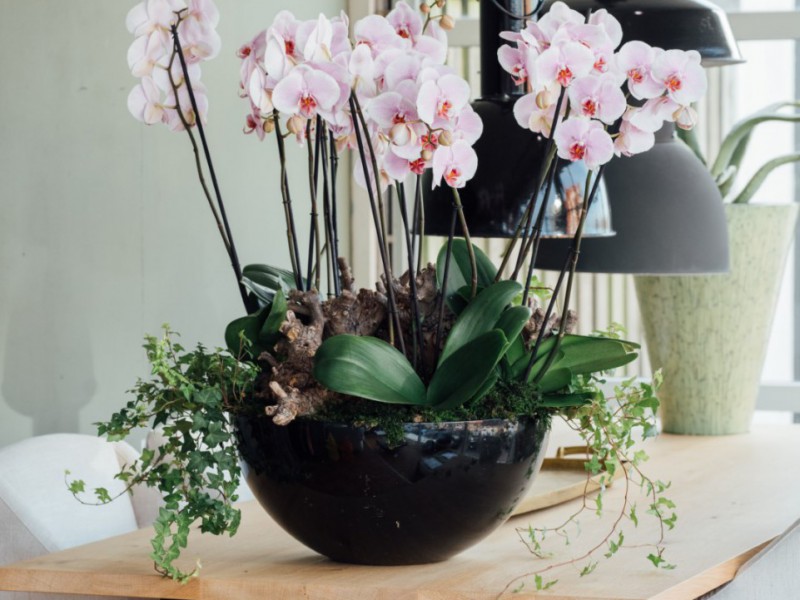 Surtido
A strong and long-term relationship begins by paying attention to listening. We listen to your wishes and then look for what would suit you best together with you. Do you love pink, yellow or purple? Orderly arrangements or a more romantic look? Or do you prefer ordering by variety? It's all possible at Bonito Plant.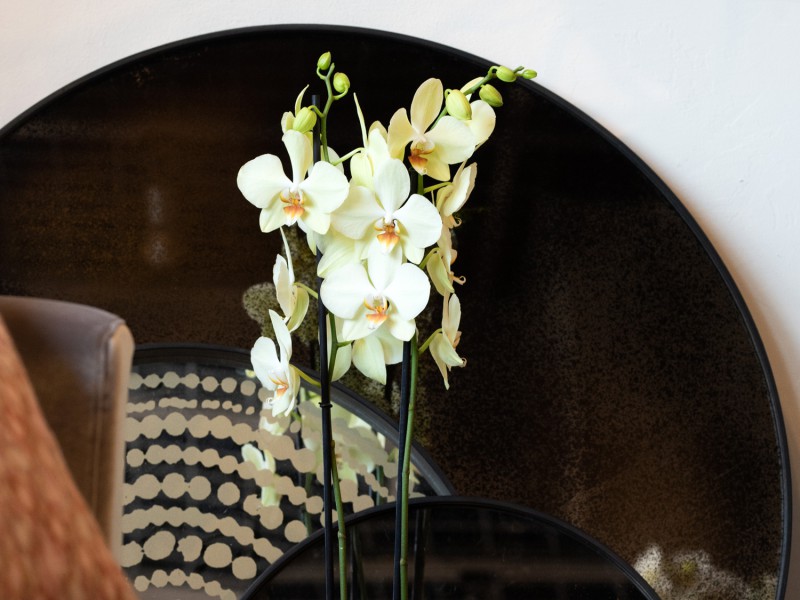 B
á

sico

Our Básico collection offers a top-quality foundation consisting of a wide-ranging assortment with a mix of different colours and varieties. They are suitable for every occasion and all seasons.
Luxury pot cover
To highlight the beauty of our plant, we have developed a fine pot cover. This luxurious matching pot cover can be combined with any of our entire assortment and makes the plant even more deluxe!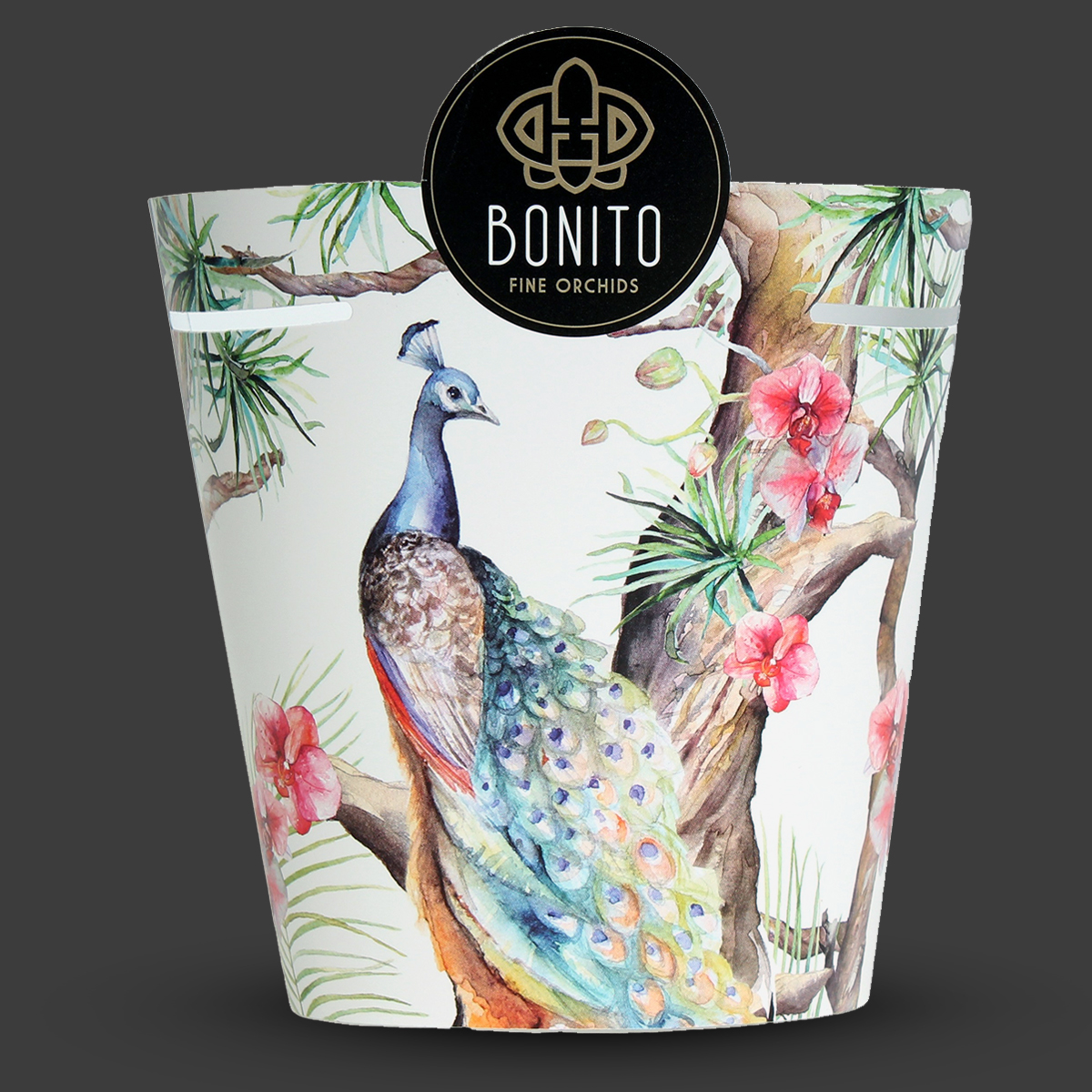 MUCHO GIFT BAG
Everyone loves giving or receiving a beautiful present. The combination of a Mucho in this gift bag is a true work of art. The gift bag with the acrylic painting of a peacock ensures a deluxe whole: a great present.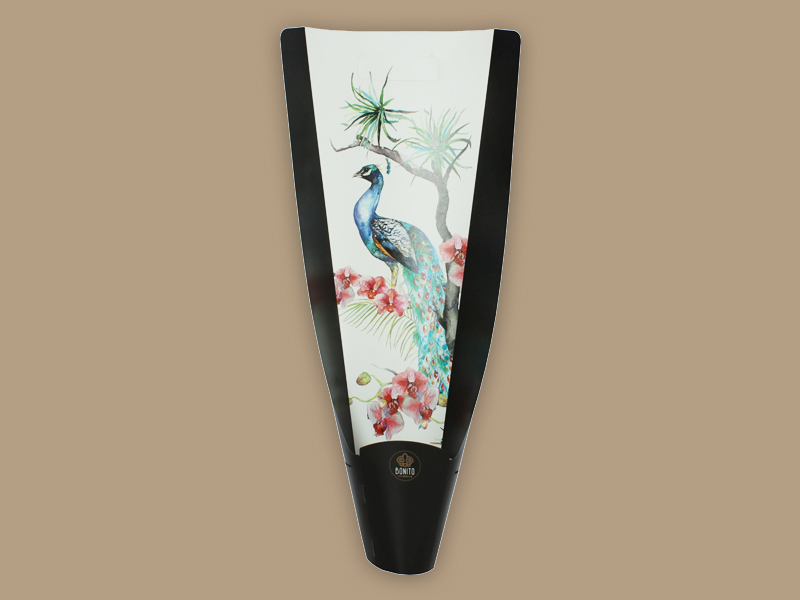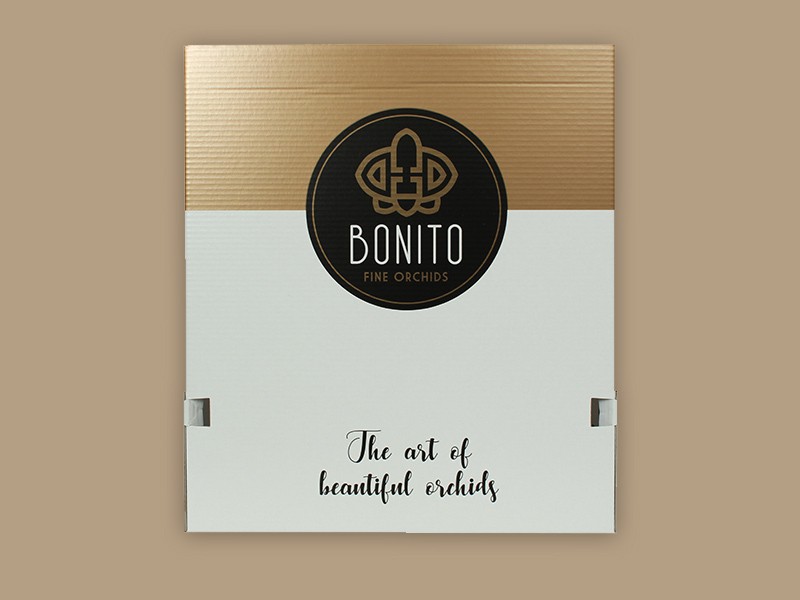 CARDBOARD BOX
To protect our lovely Phalaenopsis, we have developed our own cardboard boxes. Naturally, they are as stylish and high-quality as our plants.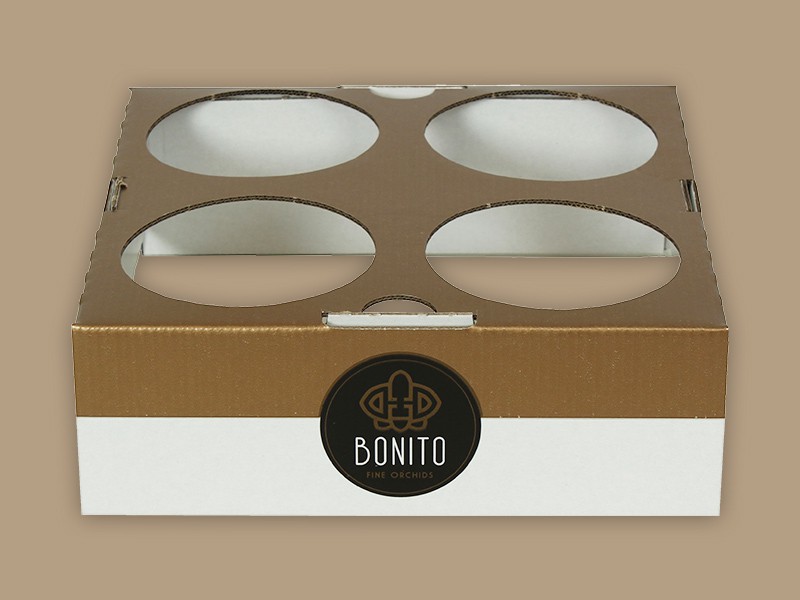 CARDBOARD TRAY
Bonito Plant also realises that every bit counts towards making our planet more sustainable. That is why we use cardboard trays and shall continue searching in the future for new sustainable possibilities.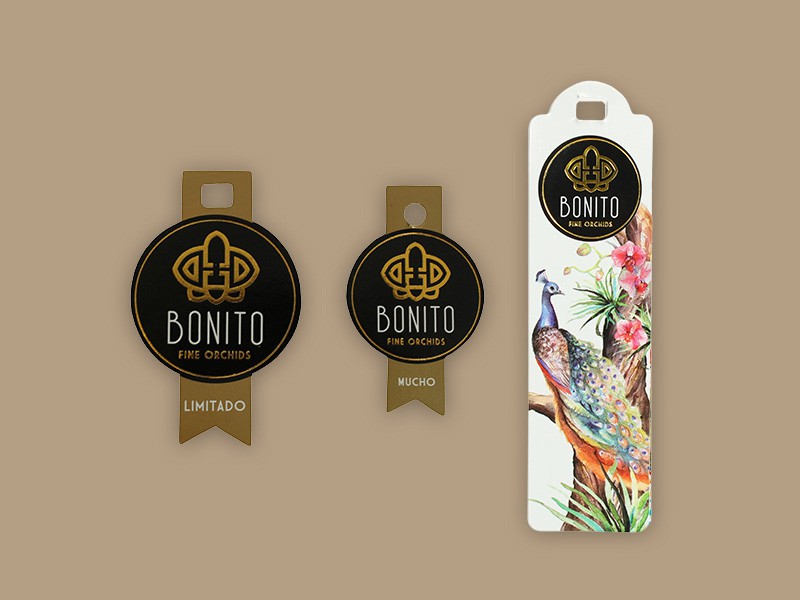 LABELS
Our masterpieces are recognised by their splendid labels that contain the best care tips. The collection determines whether the plant is graced by the Limitado, Mucho or peacock label.